Gemini Forecast for July 2014
By Susan Miller
The planets will play musical chairs this month, and you will benefit in a big, exciting way from their movements into new signs. In so many ways, July marks the official start of 2014, where projects and plans will start moving again, and you will be gratified to see that at long last, you will be able to get more done in a week than you did during the entire first six months of 2014. The main reason things have been so difficult this year so far is that the so-called personal planets - the ones that spin close to earth, namely, Mercury, Venus, and Mars - were all retrograde. The personal planets affect us here on earth quite strongly, much more so than when the larger, outer planets - Jupiter, Saturn, Uranus, Neptune, and Pluto - go retrograde. We feel those big planets when retrograde, but not on a day-to-day level that the personal planets do.
When the year started, Venus, planet ruling love, fun, beauty, and to some degree, money, was retrograde from December 21, 2013 to January 31, 2014. Then, almost immediately after Venus regulated her orbit, your ruler, Mercury, planet of communication, negotiation, commerce, and contracts, went retrograde, from February 6 to February 28, 2014. There was to be no relief for you (or the rest of us), because on the heels of Mercury turning direct, Mars, planet of action and energy, the booster rocket to all major initiatives, went retrograde March 1 to May 19. Then, finally, Mars went direct, but almost instantly, last month, from June 7 to July 1, 2014, Mercury shut down for a rest.
Yes, Mercury turns direct July 1, and you'll be quite happy about that! If you look closely at the dates I listed, they all seemed to dovetail in remarkable ways. As your astrologer, I kept wishing, why couldn't these little planets all go retrograde at the same time to let us get through their rest periods all at once? That was not to be, so if you felt like you were walking through glue in the first six months of 2014, you now know why. You still could have made progress on many fronts, but it took all the strength you had to do so, and you may have been able to score a few victories in spite of the lack of help from those planets. The eclipses in April didn't help matters, for eclipses tend to radically change agendas when an eclipse says, "Stop all that you are doing - attend to this!" It's been a trying six months.
When any planet comes out of retrograde, it takes the planet time to work up to normal speed. In that way, those little planets stumble around like some people do in the morning, needing a little coffee and a little quiet time and some weeks before normalizing. Mercury will take until July 16 to be back to where he is moving in his characteristic fast way, so don't jump on the dates that follow his turn to direct speed, July 1. Cosmic storms are about to move through on July 4 (Pluto opposed to the Sun) and on July 8 (Uranus at odds with the Sun). If you can, wait to sign on July 9 or at the full moon, July 12.
Even though Mars turned direct on May 19, if you look at his mathematical speed, Mars was to take time to build up his energy, until now, in July, to move as swiftly has he usually does. You will benefit from Mars' more energized movement now, especially when it comes to love and romance. Mars will remain in in your fifth house of true-love, new-love, as said, until July 25 in perfect angle to your Gemini Sun. At the same time, Venus recently moved into Gemini on June 23 last month, and will stay in Gemini until July 18. As you see, you have Venus and Mars, the two cosmic lovers whose job it is to set off sparks of love in perfect position to help you!
Circle this date when it comes to love! On July 13, coincidently, full moon weekend, Venus and Mars will calibrate in perfect "trine" position to see that you have an enchanting time. Circle that day in red!
While you have Venus in Gemini until July 18, spend a little time improving and refreshing your looks. I say this to all Gemini, whether you are one of my male or female readers. If you like, you can see about changing you're the way you wear your hair, or improve its color, or you can now choose madly flattering new clothes for the current or coming season. If you feel you want to do any plastic surgery (even though you probably don't need it), you can do it while Venus is in Gemini. Do so on July 9 or 17.
Now let's turn to the month's emphasis on money and the good news it may translate for you. On June 27, you had a new moon in your second house of earned income. That's the same house that holds Jupiter, giver of gifts and luck, and will help you get your raise or negotiate a better salary for a new job you may have recently been told you won. If you did not get your increase late last month, then try in the first week of July.
All new moons remain powerful for approximately ten days after they appear, so you still have help from the June 27 new moon, but you must act fast. This will be your best chance in all of 2014 to increase your income. At the same time, Jupiter is currently packing his bags, and getting ready to leave Cancer (and your money house) in mid-July, not to be back for twelve years. While you will have other opportunities to make more money in the future, of course, when Jupiter is near, as he is now, it's always easier to get approvals. Hurry, dear Gemini!
The emphasis you see on money will end at the full moon, July 12, in Capricorn 20 degrees, when you may be ending out checks, and receiving them too. You may finish up a negotiation and be ready to sign papers, and you can, for Mercury will be officially up to speed after turning direct on July 1 on July 16.
If you are working on getting funding for a creative idea, you may get word back by the July 12 full moon. You may have to make some adjustments in the creative area, due to a challenging position of Mars. I still feel you can be persuasive and present your point of view, for this full moon falls at 20 degrees Capricorn, not too far from Pluto in Capricorn at 12 degrees. You do have clout, and although you may be pressured to trim the budget (and you probably will have to do so) you won't have to completely cave in. Present your case for preserving the integrity of the project, dear Gemini.
Mars will move into Scorpio on July 25, which may agitate, or conversely, improve health conditions, and Mars will remain in this area of your life until September 13. If you have a chronic condition, you may see a flare up, so be careful, and follow all of your doctor's advice to the letter to avoid having that flare up happen, if that is possible. (Alas, I know that not all health conditions are within our ability to solve.) You have a superb opportunity to get health screenings done, and to work toward ending any habits that have lowered your health. If you need to lose weight, Mars will help you do that too.
Mars is known to increase a competitive spirit, imparting courage and drive, so if you would like to increase your strength, Mars in Scorpio would likely bring great results. Go to the gym and try a new program, sport, or class. Mars rules iron, so you may want to hire a trainer to do some focused weight lifting if your doctor says that's fine for you to do. Ever since Saturn entered your solar sixth house in October 2012, some Gemini have had some troubling health concerns, because Saturn's job is to reveal your weaknesses so that you can bolster them up before things go on too long. Mars will now join Saturn in this house, so you may feel like you are visiting a lot of doctors or dentists, but it won't last long - only until mid-September - and you're likely to emerge stronger, more radiant, and more fit than when you entered this period. Use this period to your advantage, dear Gemini.
What I am to tell you next involves the most exciting news of all.
Jupiter, the great planet of good fortune, is due to change signs on July 16 when it moves to Leo. Leo is a fire sign that blends beautifully with your air-sign element. Jupiter will remain in Leo from July 16, 2014 to August 11, 2015 next year, a period of almost thirteen months.
Leo will brighten your third house of communication, an area where nearly every Gemini has exceptional skills. If Jupiter were a person (and not a planet), and you went to visit him in his office, he would be a VIP with a name plate on his desk - but it would not say his name, "Jupiter" but would instead say, "MORE!" Jupiter will always give you more of whatever you ask him to give you - he is the planet of abundance. The third house rules writing, speaking, editing, translation, telecommunications, apps, code writing and the digital world, social media, public relations, publicity, sales, and travel. All these areas shine brilliantly for you!
There is no doubt you will be traveling much more in 2014 and early 2015 than you have in the past year or two. That news should please you - Gemini is one of the two travel signs (Sagittarius being the other), and you are always ready to pack and go. If you have had too much same-ness in your life recently, that ability to travel more will energize you.
Jupiter's influence will bring change and sophistication to your communication skills. If you have always written books, for example, you may be offered an Internet radio show or be asked to host your own network TV show. You may be asked to be an on-camera spokesperson for your company, or you may take your website a big step forward by developing apps to offer your readers and provide new ways for them to interact with your material. If you are in sales, you will likely be given new and more sophisticated accounts, so help things along by asking for them. If you are a trial lawyer, you will do exceptionally well - and be highly persuasive to the jury - and your courtroom performances may become legendary. If you write books, they may be translated into many languages. It will be very exciting to know you are being lauded for your skills. This year you will be in a role that allows you to use your talents to your fullest extent and push the boundaries of all that you've done in the past to new heights.
Here's the headline news: you have the luckiest day of the year, July 24 - a day when the Sun and benefic Jupiter meet in Leo on your behalf - in your third house of communication. All the areas I have just listed, and more (if you can think of some that would fit this house), will shine for you. Jupiter brings help from VIPs and those in authority, handsome financial benefits, and an ability to extend your influence far and wide. Jupiter brings optimism, expansion, enthusiasm, confidence, rewards, and even miracles.
On this day, July 24, you will feel the influence of Jupiter when something you do goes so very right. Use July 24 for an interview or presentation, or to hand in your manuscript for a book or screenplay. Start filming your new documentary film on this day, or go to your bureau chief and pitch a new idea for a segment or a full hour of TV investigation. Do something that has a lot riding on the outcome of your suggestion - July 24 is the luckiest day of the year!
Then, just two days later, the new moon July 26 will arrive in Leo and bring more long-lasting opportunity for you. This new moon is out of this world - Jupiter will conjoin the new moon and rain down a cornucopia of opportunity in the communication / travel realm to you. It is important for you to plant seeds in this area, for if you do, they will grow like Jack and the Beanstalk beans - so tall they can touch the sky. All new moons demand action, so decide on which area you would like to advance, and then make a proposal. You have all month to get ready. This new moon is a game-changer, and can set you on a new path for a long time - a year or more. It can bring you into a realm where you learn new skills and take a leadership position in whatever role you uncover for yourself.
If you were born at the start of your sign, near May 23, or have Gemini rising 2 degrees, you will be in an extra-special place to receive all of Jupiter's goodness on the meeting of Jupiter and the Sun on July 24.
If your birthday falls on May 25, plus or minus four days, or you have Gemini rising 4 degrees, you too will benefit in an over-the-top way from the new moon, July 25. Allow a plus or minus five days, or five degrees.
Also planets in Gemini, Aquarius, Libra, Aries, Leo, and Sagittarius will benefit if you find they are in early degrees, near 2 or 4 degrees, plus or minus five degrees in your natal chart. You may be offered a new assignment on July 24, or in the days that follow July 26. You may need to travel suddenly and if so, the trip will go so very well, and your accommodations will be quite luxurious.
Having said that, all Gemini will benefit. Jupiter will move swiftly all the way until early December. Catch this wave, dear Gemini - this one is for you.
---
Summary
This year may have proven to you that financial security was not just a dream but also a possibility that was well within your grasp. Ever since Jupiter, giver of gifts and luck, entered Cancer and your second house of earned income last June 2013, you were under remarkably positive vibrations for financial reward. You may have found you could command an impressive salary, or if you are self-employed, you were able to attract some of the very best clients who were willing to pay you top dollar. You were such a money magnet that you may have been able to negotiate with your bank for an attractive mortgage or a home improvement loan, as two examples. If you were starting a business, investors were interested in your ideas, and chances are, you were able to raise the money you needed to get started. Within this marvelous period, you may have been able to pay down debt and still have money left over to acquire some long-desired luxuries.
Nevertheless, if you feel you could have done better in the financial department, this month you will have a second chance to score a victory. The new moon that occurred June 27 will open up financial opportunity for you one more time before Jupiter heads to another sign mid-July. You will have to be quick to make appointments and come off courageous and confident to ask for your due. Ask for a raise in the first week of July, if possible, and if not, by Monday or Tuesday of the following week. If you are self-employed, pitch new clients, and give the green light (including a commitment for funding) for a new product or service that you feel has huge profit potential. In astrology, the beginning date is vital, for it is when you plant the seed. Do it in early July, avoiding some cosmic storms on July 4 and July 8, and with the proper nurturing, watch your seedlings grow sky high.
Once Jupiter moves to Leo on July 16, this great benefic planet will light the very house "owned" by Gemini, namely, the house of communication, transportation, and negotiation. These are talents most Gemini are given in abundance, and now with Jupiter, the planet that gives us "more" of anything we could ever want or imagine, now moving into your third sector, you will have the ability to spin your talents into gold. You may work in publishing, Internet, broadcasting, or telecommunications, and write, edit, publicize, sell, do marketing, write code, translate, are an actor, or do anything related to communication in other fields, but these are the areas where the golden nuggets will lie in the months to come.
Your most fortunate day of the year will be July 24, when Jupiter will meet with the Sun in Leo and light up all the areas just listed. Schedule a meeting, interview, presentation, or contract signing for that day, send in your finished manuscript, or launch your new cell phone or software app. The next day that will also deserve a gold star will be July 26, the new moon in your communications sector, perfect for launching new projects with the aim of making good money. Launch publicity or advertising campaign, ask your publisher to debut your book or e-book, or unveil your new app within the ten days that follow that July 26 new moon.
This month, Mercury will no longer be retrograde, so you will see a quickening of your pace. Mars will make a move into a new sign for the first time since December 7 - Scorpio - a time when you may now address all sorts of health concerns and perhaps also redouble your efforts to get sleek and fit. This trend will extend from July 25 to September 13, and represents the time you can make the most impressive progress on health matters. Start by scheduling all routine screenings you've not done yet this year and ask your doctor her advice about how to best to increase your fitness in a sensible, stable way. Having Saturn in this same house will help you trim down and lose weight if that's a goal. At the same time, you will be very busy at work with many projects, so a vacation seems out of the question in July and August. Your work may be seasonal, so you may have expected this news. Be happy you are in such demand.
---
Dates to Note: GEMINI
Most important dates for love, and for key meetings or actions on any front for Gemini: July 9, 13, 17, 18, 21, 22, 23, 24, 26, 27, and 31.
Mercury, your ruling planet, will go direct on July 1, having been retrograde since June 7, and this change will help greatly help all of you communications and negotiations. Mercury will at first be tentative and slow, but will be back to his old speedy orbit by July 16.
Saturn goes direct July 20, after being retrograde since March 2.
Generally you are under superb financial aspects - the days following the important June 27 new moon is the moment you waited for to ask for a raise, the best time of the year.
Pay close attention to your investments, on July 4, due to the Sun in conflict with Pluto. You may need to double check statements for errors too. Protect against identity theft.
The full moon of July 12 will bring a conclusion to a financial matter. Take time to make sure you understand all points of a deal. You will send out checks and may receive a large check too.
On July 18, Venus will move into Cancer, until August 12, which may open doors for you to earn more income.
The new moon in Leo on July 26 will aid your ability to express yourself clearly and smartly, and to make money from your ability to write, speak, edit, translate, code software, or negotiate. Launch an app or a new software program, or publish a book.
P.S. for July 2014
SUSAN MILLER'S APPEARANCES for July 2014
Susan Miller has no appearances during July
---
"OUTLOOK for the Second Half 2014 by Susan Miller" is now available:
In Print $4.99 plus shipping via USPS with tracking. Total under $10.00. One and two copies same shipping charge. https://www.americadirectbook.com/outlook2014
Digital PDF: $5.00 https://www.americadirectbook.com/outlook2014pdf
Amazon's Kindle: http://amzn.to/1lE7a8t
Barnes & Noble Nook: http://bit.ly/Uec9D3
---
The Year Ahead 2014 Astrological Calendar
By Susan Miller
My Year Ahead 2014 collectible calendar is now $9.99 (at a 45% discount, from original price $17.99) plus shipping, any applicable tax
Calendars are used to mark time, but have you ever had a calendar that helped you use your time productively? My new Year Ahead 2014 Calendar can do just that. I write every word myself in this stunning calendar with original fine art by socialite, author, and fine artist Gloria Vanderbilt, mother of newsman Anderson Cooper, and great grandchild of railroad entrepreneur Cornelius Vanderbilt. (Grand Central Station was originally her great grandfather's business headquarters.)
Gloria Vanderbilt, now almost 90 years young, licensed the reproduction rights to her critically acclaimed artwork to Susan Miller who self-published her calendar. The inks are rich, the paper heavy, glossy, and snow white, allowing Gloria's paintings to jump off the page. Each month, from January 2014 through the extra bonus month, January 2015, is found an inspirational quote from Gloria, centering on her philosophy of living life fully and creatively. With fourteen of Gloria's paintings, this calendar will soon become a collector's edition and will not be reprinted when stocks are gone.
Aside from having happy, vibrant art to look at all year, The Year Ahead 2014 calendar has many other uses, unlike any you have had in a calendar before. On every important day of each month I list the aspect and what it means, in easy to understand laymen's language. This means the next time you are about to make an important appointment, and the VIP asks you, "Do you want to come in Monday or Thursday?" you can say you will consult your calendar and know immediately the day to choose.
In a year like 2014, where sparkling aspects will stand side by side difficult ones, this calendar will not be a luxury but a necessity.
Also included in the calendar are:
- All the start and end dates of the retrograde planets in 2014,
- Detailed discussion of the new and full moons (new!)
- The date when planets move into new signs (and how long they will be in that sign), all listed on the same day entry
- The planetary aspects of the four eclipses due in 2014, and explanation of what each eclipse will bring.
No more surprises! Be in the know about upcoming events, so that you can plan your biggest initiations. This calendar is a "must" to keep with you all year, and is available here, from Susan's publisher, but not in bookstores or other retailers. Get it now, while you can: $9.99 plus tax and shipping. We ship to all nations of the world: http://bit.ly/186zM0i
---
MY PERSONAL CUSTOM HOROSCOPE BOOKS
WRITTEN BY SUSAN MILLER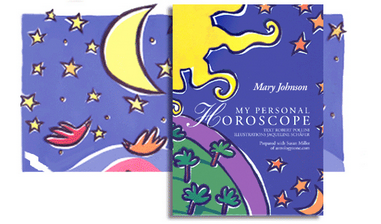 Looking for unique gifts for the summer months? - Choose from My Personal Horoscope for Adults or for Babies, or for a Relationship, the Two of Us.
Have an entire book written by Susan Miller, which runs approximately 65 pages, about your natal horoscope. Get to know your rising sign (also called the ascendant) as well as the placement of each of your planets, and what it all means. Susan's natal chart for babies centers on the talents and gifts of the little child. Order today and you will have your book within two-and-a-half weeks.
Two weeks on average from order receipt to delivery to any US destinations. One week longer elsewhere.
Also PDF option available for destinations overseas where delivery tracking of printed books is prohibitively expensive.
My Personal Horoscope Custom Natal Chart Book $49.99 plus shipping / tax
For more information call Susan's publisher, Arthur Heydendael 914.271.3640 ext 14 or click here:
http://www.americadirectbook.com/Customized_Books
---
A New Service: WiFive.us
Don't we all love a bargain?
We all want to know about the deals being offered nearby in our neighborhoods to save money. I found a way when a brilliant entrepreneur, Luis Sanchez, came to see me to show me he had developed a way of seeing all the various deal-of the-day websites that are featuring discounts on food, entertainment, boutiques, and other establishments, all in one click. Traveling? All you need to do is enter the zip code of your new neighborhood as you travel each day and you can see the deals that may be just across the street from your hotel.
The company is called Wifive.us and is ready to use today. It is a New York-based startup with a location-based search engine that gives you access to thousands of local online deals in a single site.
For now, Wifive.us is only available in the United States. It covers most of the deals and services you would see from various sources (Groupon, Amazon, Google deals, and so forth) all at once, so you don't have to go from site to site to find a deal that appeals to you, as Luis would humorously say, "until your head hurts." There is no registration necessary, and no useless emails to stuff your inbox each day.
Just type your address or ZIP code and get the deals you want when you want them. You pull in your information, which is far better than having many emails pushed to you. Try it and like the service on Facebook!
A word about the web address of WiFive.us
You may be wondering, what exactly is .US?
You might have thought the domain ending .us would only be only for government agencies and schools, but since 2002, individuals, businesses, churches, and non-profits have adopted .US web addresses to make their mark on the Internet. The .US is a new domain ending.
Just remember the name of the new service that no doubt you will be using quite a bit: pronounced as "wi-five-dot-us" otherwise seen as: http://www.wifive.us
---
Goodbye to My Former iPhone App on November 12, 2013
Hello to My New One:
"Susan Miller's AstrologyZone Daily Horoscope FREE!"
Download today!
Now that my former app, Astrology Zone Premier, will no longer be supported for iPhone, you might want to download my free version of "Susan Miller's AstrologyZone Daily Horoscope FREE!" for iPhone today. (A search for Susan Miller or Astrology Zone should bring the app up immediately.)
My former app, Astrology Zone Premier will not automatically change over to the new free app, so you will have to download my new app. Once you have it, you can decide if you would like to upgrade to the version you've come to know and love by looking inside the app and signing up for a subscription inside the app. If you should have to reload and reinstall your app, you will not lose your subscription as long at you responded to Apple's dialog box asking you to register your purchase immediately. If you don't register, if you lose your phone or need to reinstall your app, you won't be able to do so. Be sure to register your app!
If you have any questions or need help, you can write to Jennifer@Phunware.com and engineer Jennifer will be happy to help you.
---
ANDROID AND SAMSUNG USERS
Astrology Zone Premier App is Still Available for You
Android and Samsung users have Astrology Zone Premier to enjoy a little longer. We are writing NEW code for your Android and Samsung cell phones, and making an app similar to the one for iPhone, with some cool features just for your phone.
---
Live Overseas? Or, don't have an iPhone, Android, or Samsung Galaxy?
Get all 12 of my daily horoscopes each day by email or pick yours up each day on special password-protected site.
To plan ahead, receive several daily horoscopes in advance!
By subscribing to DailyAstrologyZone you will receive a week of horoscopes inside your cell phone and / or computer. This means if you have a BlackBerry or feature flip phone, you can still get my daily horoscopes as long as your device accepts email. You will also have the option of accessing your daily horoscopes from a website online, from anywhere, any time, through a password-protected site for members only, or receiving all 12 signs my email each day.
For more information: http://www.dailyastrologyzone.com
To view a forecast, select a sign from the menu below and click on Go.